Last week the EOSphere Team travelled to Hong Kong for the EOS.IO Meetup. In true EOSphere style it was another whirlwind expedition flying out of Perth on Thursday, attending the event on Friday and flying back on the Saturday evening… 72 hours and 12,000kms (Which seems to be our lucky number) travelled.
The EOSphere Team always knew that the EOS.IO event would be amazing however our Hong Kong trip eventuated in something else being revealed to us all as well.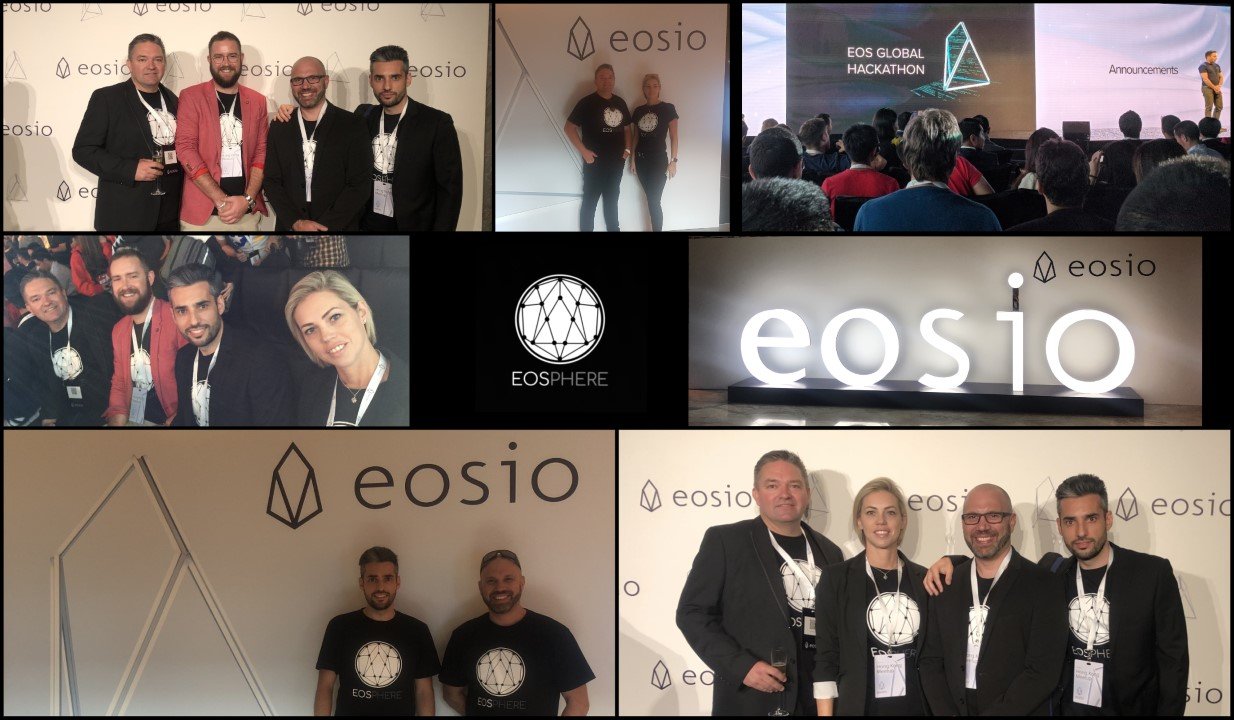 Arriving at the event it became evident that this was a very special meetup… and could certainly be classed as a full-on conference. The energy and enthusiasm of the delegates was electric to say the least and because we were wearing our EOSphere branding we were immediately recognised by numerous fellow attendees. It felt like we were reunited with long lost friends as we made our way towards the event hall, meeting in person for the first time with members of the community, block producer candidates and DApp developers… all people that we have had some interaction with online or that were just fans of EOSphere from Australia.
The main presentation, which was on a huge screen spanning the width of the hall I might add, was really informative. Ian Grigg presented the positive role Governance will serve in the EOS Delegated Proof of State (DPoS) blockchain as well as provided some insight into the role and expectations of a block producer (Ian mentioned later in the evening that he should have added our Explaining the Role of a Block Producer video to the presentation, you can see it here). We also received a technical summary of EOS.IO Dawn 3.0 released that day and how it will improve the experience of developers wanting to build on the platform from Sean Mitchell aka. Sandwich.
It was then onto the special announcements, the first was an update by Serg Metelin on what initiatives EOS.IO are doing to continue to improve developer relations… including a bug bounty and ambassadors program to name a few. The second was the 4th VC partner announcement with EOS Global (Michael Cao and Winnie Liu), which will be a $200 Million USD Asia focused fund. Finally, and easily the most exciting for the EOSphere Team was the announcement of the EOS.IO Global Hackathon in 2018. This Hackathon will have 1.5 Million USD in rewards kicking off in Hong Kong in June and will then be held in our backyard Sydney Australia in August! Followed by London in September. Of course, our own Co-founder Ken Hall in all the excitement registered an EOSphere Hackathon Team for Sydney that very evening.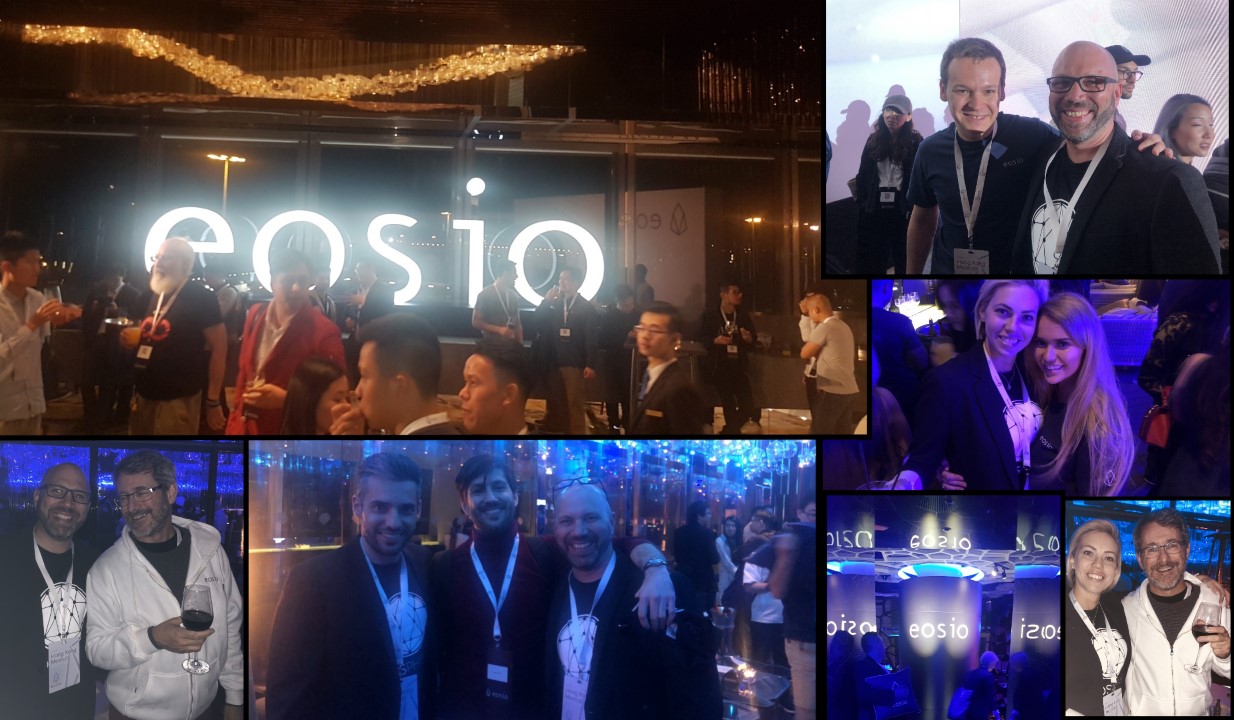 The after party was held in the Ritz Carlton funky Ozone Bar, there was plenty of time to further meet and catch-up with delegates as well as get some one on one time with the block.one team. Of special mention was our Event and Marketing Manager Shelley Dold getting the EOS.IO marketing low down from Georgia Fairweather, our Technical Architect Walter Bevacqua discussing the challenges of deploying IPFS on the blockchain with Sean Mitchell "sandwich" and our Community Manager Ric Smit sharing a number of drinks with Ian Grigg.. I'm not actually sure what they were discussing, maybe it was the future of Ricardian Contracts?
The EOSphere Team were invited to speak at the EOS Gravity Meetup on Saturday afternoon which in itself was a great honour and was further appreciated by the incredible amount of hospitality the Chinese and Hong Kong community extended to us. This included a real time Chinese to English translation of the presentations and questions courtesy of Myra Wang from EOS Gravity as well as speakers presenting directly in English for our benefit. Some of the speakers such as Zicen from HelloEOS had never presented in English before, but insisted to ensure his thoughts were conveyed and it was greatly appreciated.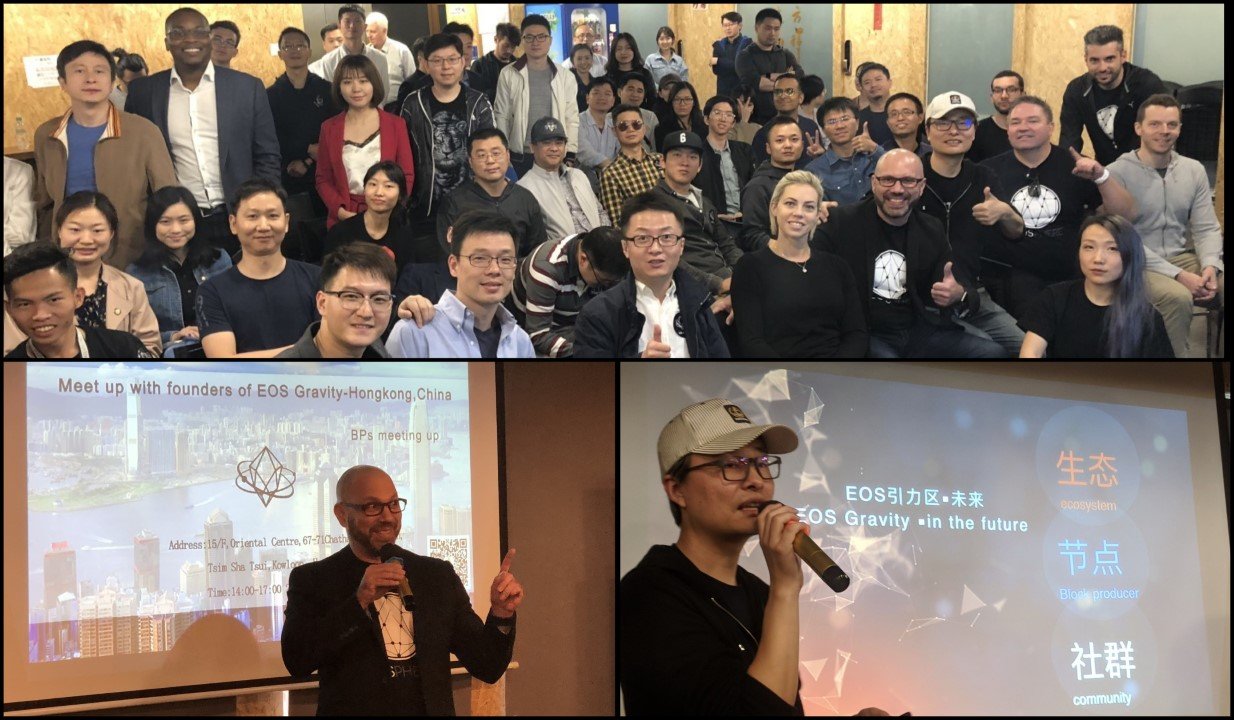 We were all very impressed with the inclusive nature of how EOS Gravity and Ocean Liao (EOS Gravity CEO) run their meetup's. Numerous Block Producer Candidates and EOS centric businesses are encouraged to present and communicate with the community in order to grow the entire EOS ecosystem or how we like to call it the entire EOSphere. Some of the speakers were:
 Benjamin Rameau from Blockchain IB a leading Asian financial advisory service, who was also the MC for the EOS.IO Meetup
 Chen Yanfeng from Cybex a decentralised exchange and future EOS hardware wallet.
 Li Jinma a blockchain Developer, Writer and Community Organiser.
 Zicen "King of Milk" from HelloEOS a Block Producer Candidate.
 Tayo Dada Founder-CEO from Uncloak an EOS blockchain powered cyber security solution.
 And of course, a keynote from the EOS Gravity CEO Ocean Liao who clearly articulated his valid thoughts on the importance of communication and inclusion in a global EOS ecosystem.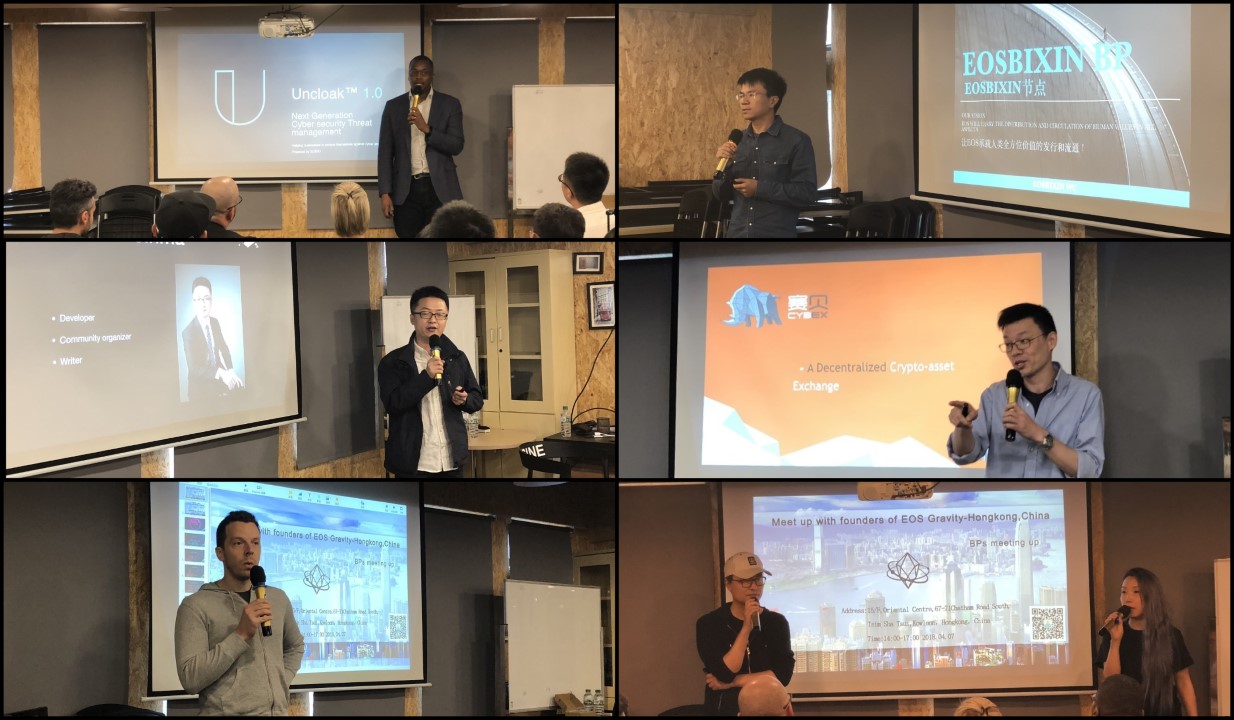 Apologies if I have forgotten any, it wasn't intentional.
Our EOSphere Ambassador Shannon Curtis took a side trip to attend the EOS Union Meetup in Shenzhen where the EOSphere brand was well received. We met EOS Union at the EOS.IO event but unfortunately just did not have the time to fit it all in and were unable to attend their event. We will definitely make it a priority to see them all on our next visit.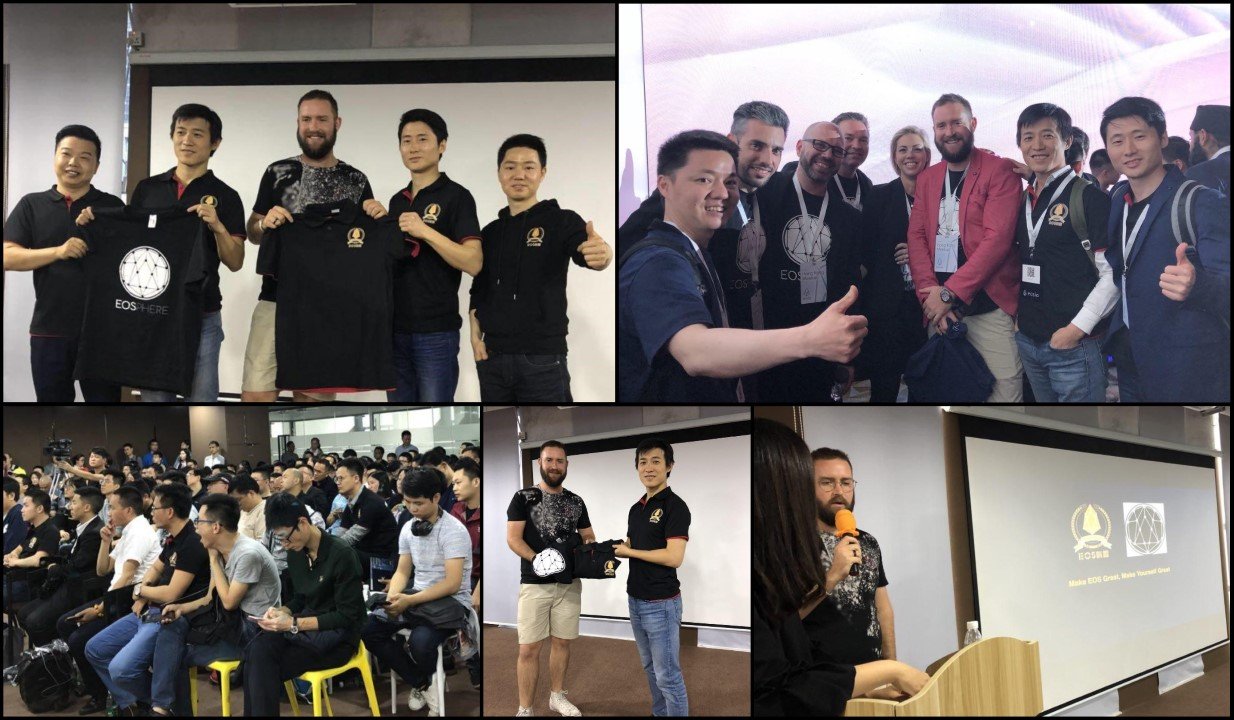 After a final farewell over a beer with the EOS Gravity Team we headed to the airport to fly back to Perth on Saturday evening.
This whole trip really opened the EOSphere Team's eyes to the incredible amount of work being done by the Asian Block Producer Candidates including incubation of EOS DApps, facilitating business adoption and community engagement in their regions.
We are now even more bullish on the global potential of EOS and are delighted to have made numerous new friends in our part of the world.